18" Workspace

The Crown Jewel's larger workspace gives you the opportunity to stitch freely without worrying about limitations.




Built-In Stitch Regulator

Stitch Regulator is built-in and regulates your selected stitch length from 4 to 18 stitches per inch.




Back and Front Handles

Conveniently control the motion of the Crown Jewel from the side of the machine that you prefer with the comfort gripped handles.




Stay Informed with the LCD Display
Large, color LCD Display shows: Stitch Regulator and Manual modes, Multiple LED Lighting options, Memory settings, Needle speed, Stitch counters, Alarm mode, Diagnostics, Calculator.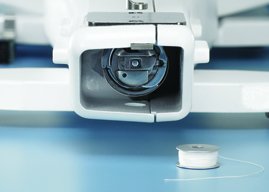 Large "M" Class Bobbin

Relish less bobbin changes with the largest bobbins available in quilting (up to 40% more than a standard bobbin).




Stitch Control Features

Handle Bar Control Buttons at your fingertips: Needle Up/Down, Start/Stop, Speed Up, Speed Down.